Regular price
$133.25 USD
Sale price
$79.95 USD
Unit price
per
Sale
Sold out
Aerial Yoga Hammock Premium Aerial Silk Yoga Swing Kit for Antigravity Yoga, Inversion Exercises, Improved Flexibility & Core Strength
We support PayPal payments, so please be assured that your money will be protected
Are you a yogi looking to take your practice to the next level?
It is a wonderful Equipment for dancers, yoga or Pilates
Our Aerial yoga swing set offers the exact same experience that you would in a professional Aerial yoga studio, but in your own home, patio or yard.
There are many forms of yoga. But with a hammock is better. You can freely practice a variety of actions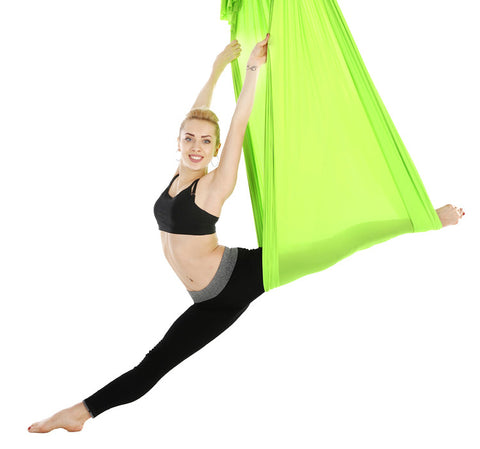 Or perhaps you are looking for a tried and true solution for strengthening your spine?
Yoga it has 5000 years of history. And 5000 years of history make the sport more suitable for physical exercise.
So Yoga is a sport that is good for the body, mind and spirit.
Imagine if you could nail your inversions and increase mobility in your back muscles, ligaments, and vertebrae from the comfort of your own living room.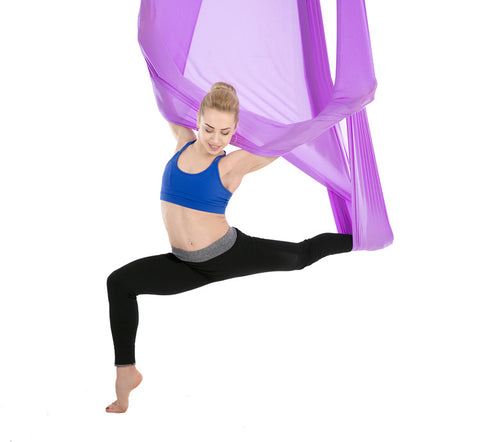 Ideal for those recovering from injuries, yogis or gym enthusiasts of all levels, this antigravity yoga swinf inversion sling will help alleviate and reverse pain associated with sciatica, persistent lower back pain, hip pain, and even herniated discs.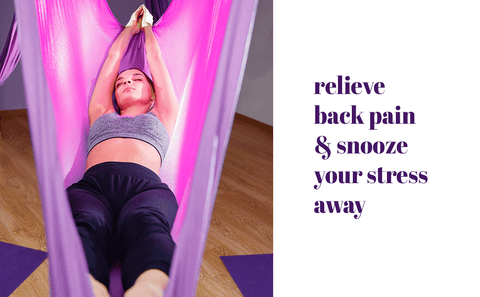 Aerial Yoga Hammock can reduce back pain within just minutes of use. The Yoga Swing can help relieve pain associated with sciatica, herniated discs, and even neck or hip pain.
Use the swing to achieve spinal traction and take the pressure off your vertebral discs.
Use it daily and feel the cumulative healing effects of inversion therapy add up.
Health Benefits
Whether using it for inversion therapy for spinal decompression or upper body strength building such as using it as a dip stand, the versatile yoga inversion sling is sure to invigorate your health. Perfect for kids too.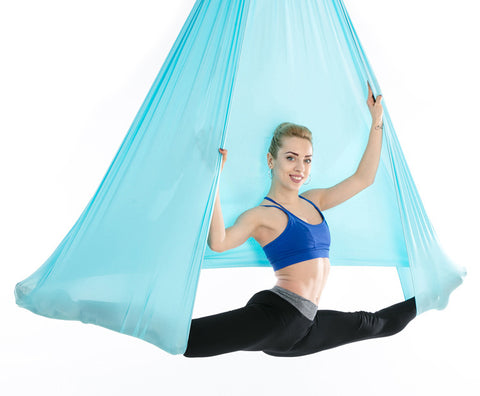 There are many Aerial Yoga Hammocks on the market, but our Aerial Yoga Hammock is made from Certified Quality Material And Hardware.
100% Premium Nylon
Made of 100% Nylon fabric, The Nylon is soft, Breathability, Ultra Strong Antigravity, Anti-tear, durable & cool to touch with a beautiful subtle sheer.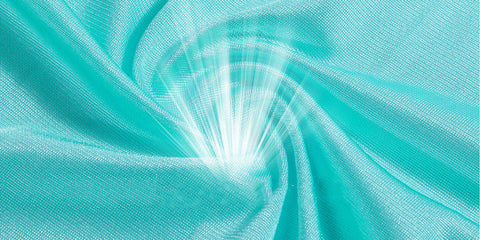 You can sit and cocoon comfortably in the hammock as it conforms to your body contour and provides generous width.
You will feel a slight natural stretch but not too much. Hence it is great for both beginner, advanced aerial Pilates & yoga practitioners.
Luxurious Silky Material
Enjoy wrapping yourself up in the air in this luxurious silky material which is most often used in authentic aerial yoga.
When it is banded together like a swing, and when you cocoon inside the hammock the fabric gives just enough so that it feels comfortable for the body and skin.
Its softness and slight elasticity is unlike any other, giving you impressive control in every pose. It Can be Fully Cocooned Or Laying Fully In.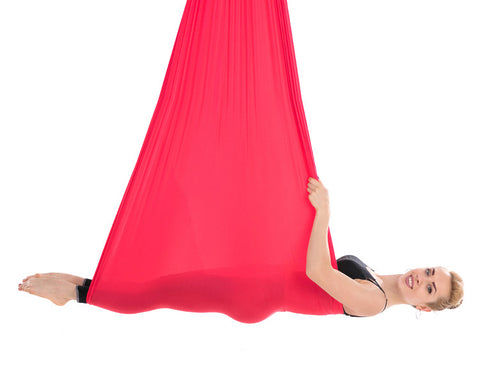 This premium fabric is used for Yoga Slings and Aerial Silks. It is long lasting and comfortable. The double point is great for relaxation, stretching, stress reduction, and back pain.
while the generous amount of fabric allows you to completely cocoon from head to toe. We promise you'll be impressed!
Easy To Use
They can also be looped around an open beam / tree branch to create a portable hanging point for your hammock.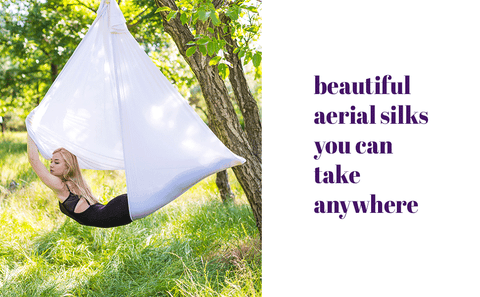 This Yoga hammock is easy to get in and out of, super comfortable, and easy to adjust the height.
The simplicity of our design, lacking the numerous seams or rubber handles of other hammock styles, makes this hammock more comfortable, multifunctional, and easy to wash.
Note: Not to be too high off the ground, pay attention to personal safety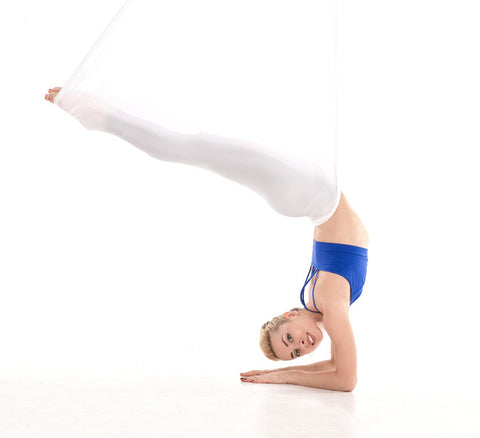 Deluxe Flying Yoga Hammock for Aerial Yoga, AntiGravity, Inversion FUN
As yoga mat, swing or hammock, Aerial Yoga Hammock, It is a wonderful Equipment for dancers, yoga or Pilates
A Gift Of Health & Joy
Aerial yoga hammock is sure to invigorate you and your family's health. Enjoy aerial Pilates, antigravity yoga, inversion therapy for spinal decompression or sensory swing therapy from the comfort of your home!
Aerial Yoga Hammock is a powerful back pain relieving inversion device. Get the most powerful & natural back pain relief in the comfort of your home. No need for surgeries or medications!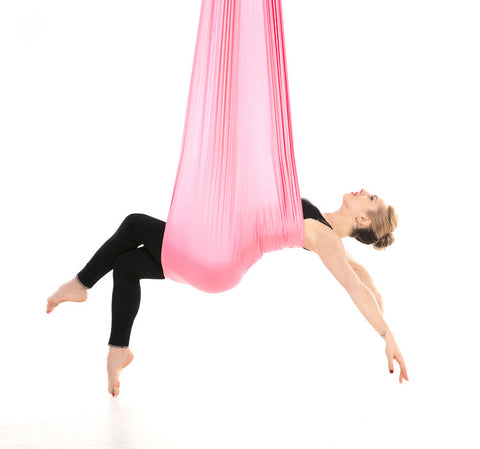 The Benefits of Aerial Yoga:
Increased blood flow to relax the muscles.
Build flexibility in the back and neck.
Strengthens the core and other muscles.
Spinal decompression and pelvic traction.
Reduced fatigue, stress, and anxiety.
Relieves pain and pressure on vertebrae discs and ligaments.
Spiritual Uplifting
Aerial yoga hammock's Psychological effect triggers your inner optimistic aura, stables your mind & acts as a mood booster.
Age Group: Adults
Gender: Men, Women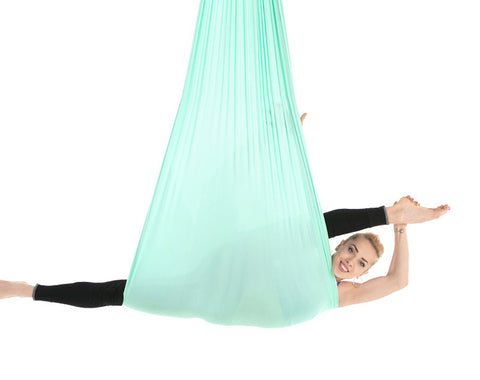 Material: Durable Low Stretch Fabric (100% Nylon)
Dimensions hammock: about 4m / 2.8m
Application:
Indoor: 1. Durable Roof (no ceiling), 2. stable shelf;
Outdoor: 1. stable shelf, 2. Tree
1 * Yoga Hammock
2 * Titanium Alloy Lock Buckle
2 * Extension Straps(multi-loop daisy chains)
2 * Double-layer connection belt
We stock a variety of vivid colors to enlighten any space, but if you don't see the color you are looking for, we may be able to get it for you.
Share
View full details