Women's Compression Socks Best for Running Athletic Cycling
Guaranteed Safe Checkout
Description
Athletic Knee High Compression Socks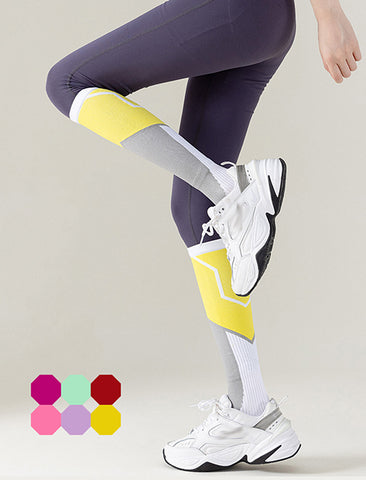 Are your foot problems affecting the quality of your daily life?

We hope our compression socks can provide support to everyone who needs it, let them enjoy life and sports without pain.
Unlike normal athletic socks, compression socks are designed with gradient compression, The perfect performance gear designed for any activity where your legs are pushed to the limit.
Compression socks are engineered with the latest arch to calf compression technology, offering a targeted foot to calf muscle support unseen on lesser quality socks.
The results are a boost in circulation, delivering an enhanced oxygen blood flow keeping you going harder, for longer, and recovering faster.
The sock has smooth & soft, breathable, lightweight fabric making them easy to wear for long periods of time, without leaving marks on your skin.
3D kinematics design,allows greater flexibility & motion with no skin chafing or irritation.
The high-quality cotton feel material adds the perfect amount of pressure, and the compressions not compromised when they're washed. Be amazed by how they enhance your performance and provide optimal support without compromising your mobility!
Non-binding welt top keeps the top of the sock perfectly in place on your calf. 
COMPRESSION SOCKS WITH BENEFITS:
Improving blood circulation in the legs, Prevent varicose veins.

Swelling and fatigue prevention,muscle soreness reduction.

Relief from pain due to plantar fasciitis and foot injuries.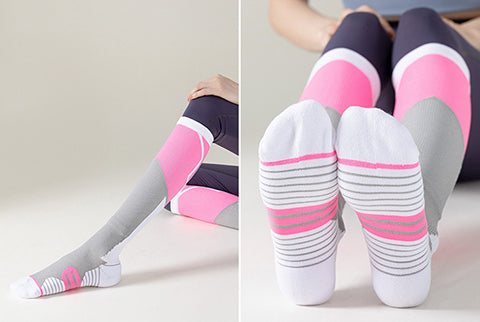 Offers optimal muscle support during casual everyday activities.

Moisture-wicking design to keep feet dry and minimizes blisters.

Superior construction, provides for full range of motion and joint flexibility.

High Performance fabric keeps an optimal calf/foot temperature.
In a variety of colors and styles to suit any aesthetic, perfect addition to any wardrobe.

Designed for everyday use,mild compression,more energy while sitting & standing.
These fabulous socks are perfect for all athletic sports like running, hiking, soccer, basketball, football, baseball, cycling, walking as well as The graduated compression is therapeutic for aiding in recovery and nursing you back to health.

Suitable for pregnant ladies, nurses, maternity, all workers & all women .They can be worn all day and night, for traveling, during work, sitting, sleeping, everyday activities, or for whenever you may need!

Women's Compression Socks Best for Running Athletic Cycling