Regular price
$29.90 USD
Sale price
$14.99 USD
Unit price
per
Sale
Sold out
COMPRESSION SOCKS- BEST CHOICE FOR YOUR HEALTH AND COMFORTABLE!
Help to prevent pain, fatigue, swelling and cramping in lower extremities while improving circulation and overall comfort. Best for Running, Nursing, Athletic Sports.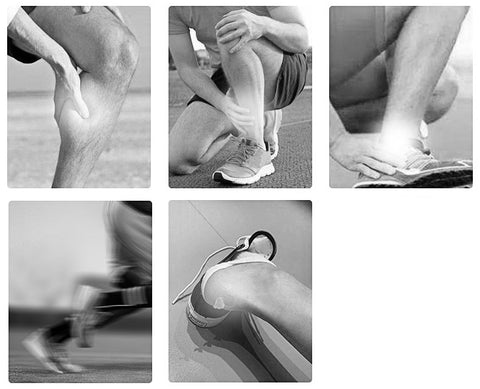 You don't have to dread any pain that might accompany your daily duties!
GET RID OF YOUR LEG PAIN WITH OUR Graduated compression socks. Keep Leading Your Healthy Lifesyle.
Combines innovation, the best materials,incredible comfort and support.
Our products feature a unique copper-infused, breathable, moisture-wicking fabric that stays warm in cold temperatures and cooler when the temperature rises. Copper's unique properties help eliminate odor allowing you to wear your sleeve longer without worry of offending those around you at the gym or at work.
COMPRESSION SOCKS WITH BENEFITS:
Enhances blood-circulation through strong and balanced compression at the ankle and gradually decreasing compression moving upward. Progressive compression reduces the chances of lactic-acid accumulation.Better blood-flow = better performance and faster recovery. Alleviates muscle fatigue resulting from physical activities or standing-up for long hours.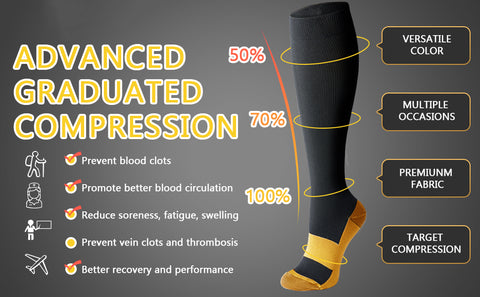 Common occupations that may benefit from compression socks:
Sports, running, hiking, fitness, biking.

Business people or office workers with desk positions that require prolonged sitting.

Frequent travelers or anyone taking a long plane flight.

Masseurs, cosmetologists, and stylists.

Teachers, warehouse, packing, or delivery occupations.

Construction workers, chefs, line workers, and restaurant serving staff.

Jobs that require you to be on your feet a lot and more!

Whether you're getting dressed for work or a weekend adventure

Or you are just that loving person wanting to show how much you care but running short of gift ideas.

Share
View full details