Stainless Steel Bangle Bracelet Flask for Women
Guaranteed Safe Checkout
Description
Ever been thirsty on the go, but had no liquid refreshment on you? The Bracelet  Flask is the answer.
Simply top up the flask with your chosen beverage before you leave home, and keep sipping while you are on the go.
The Bracelet  Flask is the perfect solution for that night out with friends.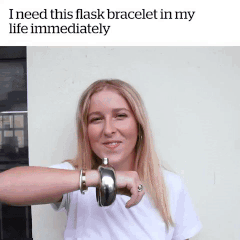 Product Features:
【TOP QUALITY&SAFETYã€?/strong>Hillside-Kit Flask bracelet is made of food grade stainless steel, FDA Certified ,never rust. This Shot Flask Bangle is Sturdy so even you Drop off it won't break.
【FUN FLASK Hillside-Kit Hidden Flask Bracelet is a surprise for you and your friends! It's a secret Flask,normally most people just think it's Chunky Jewelry. But you can use this to Surprise your Friends When you go to a Party Or a Concert Or a Festival where don't let you bring your own drinks .
【BEAUTIFUL GIFTã€?/strong>Hillside-Kit Girl/Women Bracelet drinking Flask is a perfect Gift for you or your friends who love Drinking also love fashion jewelry. You can use this as a Birthday Gift,Party Gift,Christmas Gift ,New Year Gift too.It's Not just a Flask also a beautiful Bracelet.
【CAPACITY AND SIZEã€?/strong>Hillside-Kit flask bracelet is larger than normal bangle. Outer diameter: 3.93 in, inner diameter: 8 cm. Can hold up to 100 ml of liquid, the equivalent of 2 shots.Mostly use for Party time and bar time.Not suggest to use as normal bracelet wearing.
Package Includes:
1 x Stainless Steel Bangle Bracelet Flask for Women(funnel not included)
Stainless Steel Bangle Bracelet Flask for Women