Regular price
$39.90 USD
Sale price
$19.99 USD
Unit price
per
Sale
Sold out
Custom Photo Paint by Numbers - Turn your most cherished personal photos into Personalized Custom Paint by Number kits. The PERFECT gift idea for any occasion!
HOW CUSTOM PAINT BY NUMBERS WORKS:
Upload the picture you want to transform to a Custom Paint by Number kits. Simply click on the "Upload Image" button and select your photo to upload.

Select Painting Size and the level of Colour Details (24 & 36 & 42 colours) for the painting.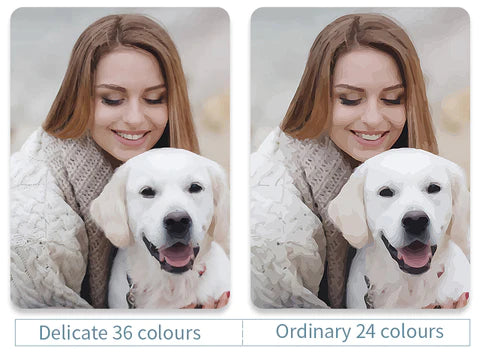 Our design experts will optimise your picture and turn it into the best possible paint by numbers kit that you can paint on.
You will receive a fully custom-made canvas, full set of acrylic paints, and paintbrushes ready for you to paint straight away!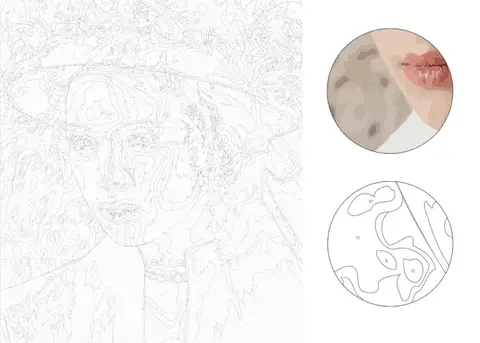 PLEASE CAREFULLY READ ALL ITEMS BELOW BEFORE BUYING!:
1. Each kit includes Professional Editing! Photos may be adjusted to make your image into the best possible paint by number kit. Our experts will do their best to keep the image in as true form as possible to what was uploaded, but may take artistic liberties to make images fit the dimensions of your kit. This may include cropping out excess background, or, in rare cases, changing the size of the kit to the most appropriate for the subject matter.
2. Please allow an additional 1 weeks plus 12-25 business days shipping time for us to process the custom kits. These are very labor intensive to edit, design, and produce!
3. Unfortunately, custom kits are non-refundable.
A photograph is good, but a painting? That's Artistic! Capture any great moment with your pet or a friend. Let your strokes tell the story. And feel fulfilled when you finish the painting. Share it, Give it or Frame it. Something not only you but everyone can cherish.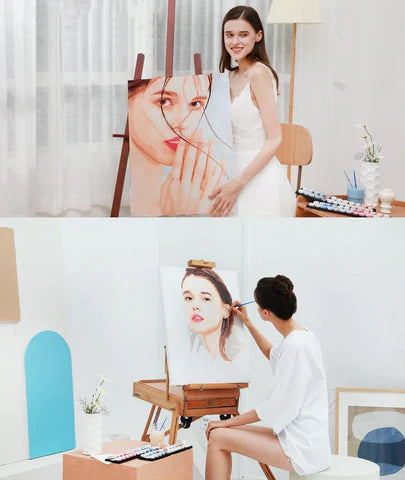 Our homes are decorated with beautiful art, that We created.
Painting by Numbers is a system where a picture is divided into shapes, each marked with a number that corresponds to a particular color. You paint in each shape and ultimately the picture emerges as a finished painting.
Meetfunart curates high-quality DIY paint by numbers kits that are sourced from the best designers and manufacturers in the world.
1. Numbers are indicated on each canvas
2. Each number represents a color of the provided paint pot
3. Fill the numbered space with the corresponding numbered color
4. Follow the numbers; Become the artist!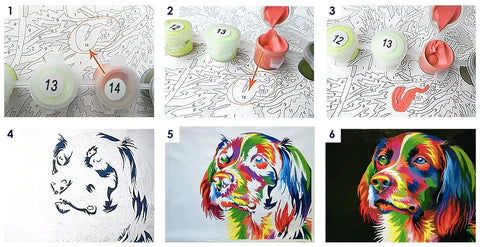 Hone Your Painting Skills - With each kit, you'll be able to practice your brush handling and get a feel for working on canvas.
Share The Fun - Paint by Numbers for adults can be a fun social activity. Try working on a single kit in turns with a friend.
Reduce work pressure and create fun in life - Take your mind off stress and anxieties. Research shows that creative activities like coloring and painting help reduce stress.
Easy to operate, beautiful oil painting - Match the numbers on the canvas with the corresponding labeled numbers on the paint. It is easy to follow and suitable for all artistic abilities.
The Perfect Gift - As a gift for friends and family - This makes for a thoughtful gift for anyone who enjoys crafts.
Exercise children to develop good habits of concentration - Paint by number kits are a great way for new artists to build confidence.
Make your room full of art - Create your own wall art, add a frame to your painting so you can hang it on your wall.
Customer Finished Product To Show
Includes Everything You Need To Complete Your Painting:
1x Pre-printed Canvas
1x Set of Acrylic Paints
1x Set of 3 Paint brushes
1x Set of easy-to-follow instructions for use
Share
View full details
⭐⭐⭐⭐⭐
"Love how this turned out! I'm not a great artist but awesome that you can just color in some circles and make a masterpiece 😂 Came with plenty of paint and 3 different sized paint brushes. Overall very happy with the results. Highly recommend!"
- Greg
⭐⭐⭐⭐⭐
"Very unique and a great gift idea. I absolutely love this! I've gotten a custom paint by numbers for every location I've visited. I couldnt be happier with my purchase and cant wait to decide what picture to send them next!! It was easy to upload picture and shipping was quick. Highly recommend this quality product."
- Clara Sue